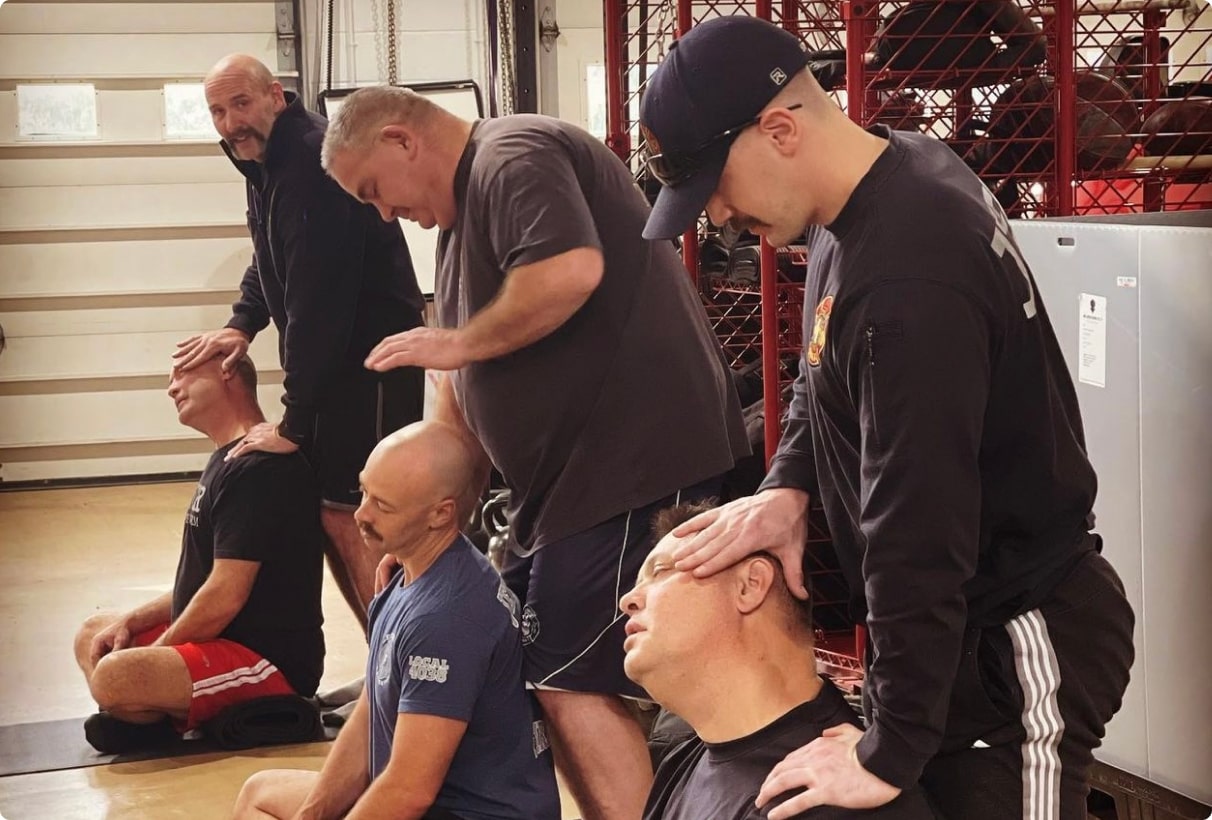 Our wellness workshops provide tools for self-care to those who are least likely to check in with their mental health.
We provide workshops on breath-work, self massage, mobility, recovery, and much more to those who are least likely to check-in with their mental health or know how to self-heal. We offer a traditional studio yoga class for one client and weekly online meditation classes. Through our workshops, our clients have transformative experiences that lead to personal growth and healing.
This 8 hour workshop will be broken up into two parts. The a.m.portion will be a workshop setting. We will begin with a 90 minute conversation on Leading Mindfully. Followed by group breakouts sessions / self inquiry. The a.m. portion will allow time to mentally reflect on where we are slowly dying verses where we are thriving.
The second half of the day will be hands on. We'll integrate our morning session into the physical body. This will consist of a blend of mobility, injury prevention and treatment, breath work.  Winding down with an Irest mediation session. (Studies show one session restores 4 hours of deep REM sleep).
The goal of this day is to get the officers evaluating and set a plan for taking what they learn into their everyday life.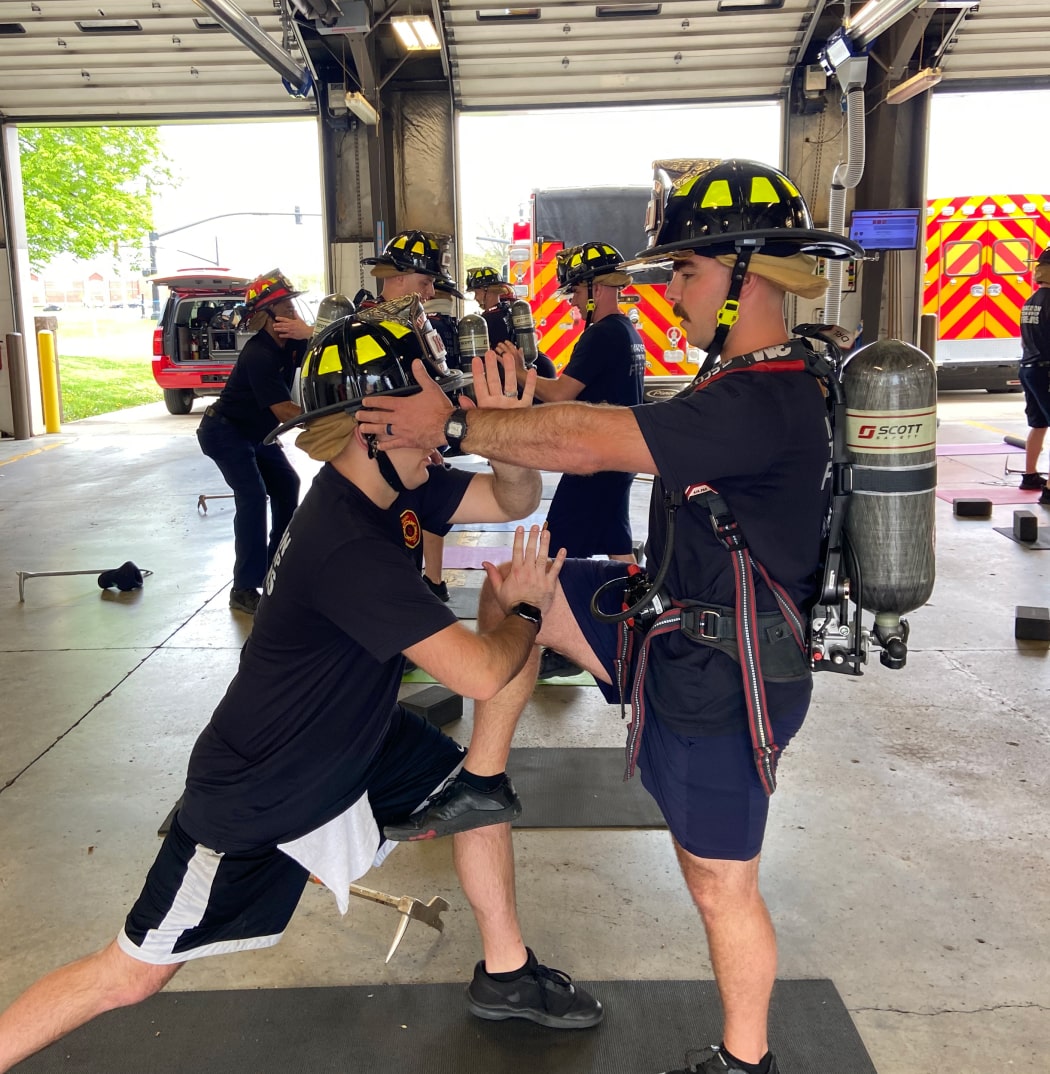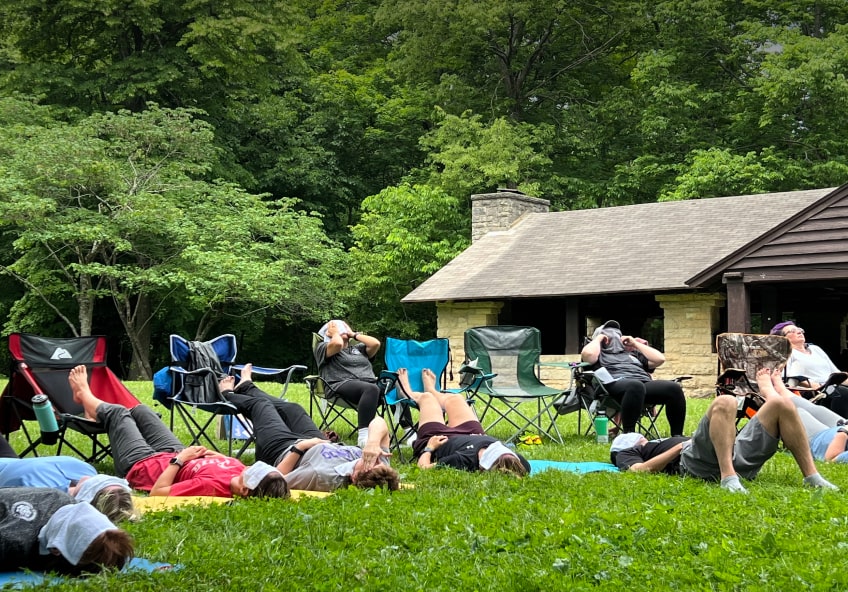 Modalities we Offer
Within Our Wellness Sessions
Massage therapy – using Tune-Up Fitness balls to treat and prevent injuries with hands or utilizing massage balls.
Myofascial release – we train on the tissue and what it needs to properly release
Kinesiology – knowing how and why the body moves in proper alignment specifically geared to our first responders who add gear onto their bodies.
Mobilityy – we must move something to move something. Thoughts, body or breath
iRest /Yoga Nidra – sleep deprivation and trauma are the biggest warriors to health and the biggest killers. This body scan practice restores REM sleep, alleviates pain and helps PTS
Yoga – connecting the breath with movement with intentional work has been proven to increase flexibility and reduce stress
Breathwork – we practice many breathing techniques to increase vasodilation and reduce the risk of constriction related deaths
Posturing injury prevention – proper posture and proper use of the diaphragm core and glutes
Grounding – balancing the emotional, mental and physical bodies
Sleep reset – building a routine for better sleep for a better life
Sensory – stimulate the brain, the nervous system and improve coordination
Mindfulnes – we spend most of our time in the past or the future connecting to the present alleviates anxiety and depression while broadening our awareness.
Amber Miskovich of The Wonder Within is our go-to resource for our numerous professional development opportunities for Ohio educators. She never fails to deliver a high-impact and transformational learning experience for our conference attendees. Participants walk away feeling restored, reinvigorated, and energized to re-engage in their service to their students and stakeholders!
B
Becky Hornberger, PhD OAESA/SAIL Executive Director
Ohio School Nurses who had not been together for an in-person conference since 2019, and had suffered much compassion fatigue and burnout from the pandemic.  I know there were so many positive verbal comments that were shared in passing with the conference planners as well. I personally know how encouraging and helpful your presentation was. As a District Wellness coordinator, I was especially grateful. I still have the card on my desk that reminds me to 'relax my jaw, take 3 deep breaths and feel my feet.
W
Wellness Workshop Attendee
I've been fortunate enough to receive yoga instruction from The Wonder Within at my firehouse. Our jobs are full of physical and mental stress. The techniques and exercises we've learned have helped my body and mind survive. Breath control and tension release enable me to handle basically everything the job throws at me, or quickly recover after. I've definitely become a fan, and I encourage all to try it. My crew gets younger, as I get older. The body maintenance tricks enable me to perform as a benefit as opposed to a detriment to my team. Learning to listen to my body, and then attend to it. Thank you to your team for benefitting my department. I'm thankful for your time with us, and I look forward to hopefully inspiring more people next year. 
J
Lt. Jeremy Irwin, Madison Twp FD
Having the ability to work on our member's physical and mental health has been a priority at our Department. The experience we have had with Wonder Within has been incredible and, most importantly, every member that has been involved thoroughly enjoys the program and looks forward to the next one.
C
Asst Chief Chas Adams, Madison Twp FD
I will admit I never thought yoga belonged in the fire service. I thought it belonged in a class somewhere where sounds of the ocean music was being played. Since implementing yoga on a weekly basis, I feel more connected with my mind and body and have learned new techniques to decompress from the stressors of the job. Yoga with The Wonder Within has taught me to be more open minded to different types of exercise and stretching to assist in prolonging my career.
K
Lt Kyle Stelzer from BST&G FD
The Wonder Within is more than just a yoga practice. When you leave, your body and mind will feel relaxed leaving you ready for what's to come of the day. Amber, Brooke, Nicole and Abbe are professionals at their practice and are willing to adjust for our specific needs.
O
One Unit, Concord Twp FD
This was an amazing presentation. I looked around during the presentation and everyone was completely engaged and interested in what she was saying. I took a lot from it and feel it has motivated me to start getting healthy, physically and emotionally. I have looked at her website and may get involved with what she offers. Amazing presentation.
U
United States Probation Southern District of Ohio
I really appreciate how authentic she was. From sharing details about her personal life to speaking freely and not censoring herself.
U
United States Probation Southern District of Ohio
Signup for Our Wellness Workshops